When Is A Lot, Too Much?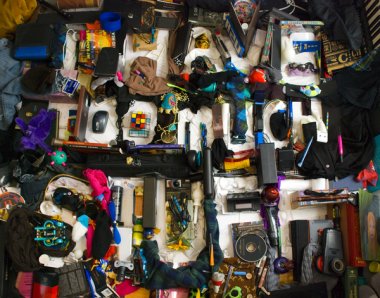 We live in times where more and more, what we owe defines who we are. Where to be someone you need to own certain things, climb the social ladder, buy that special rug, those uncomfortable and shiny shoes … But is this consumerist way of life really bringing happiness to mankind?
Psychologists and scientists seem divided.
On one side, a new article from the Journal of Consumer Psychology, states that there exists a (modest) correlation between money and happiness. According to the journal, if people spend money well, they are able to obtain happiness. The opinion goes that 
what hampers happiness is not the stress that comes with the money, but the consequences of bad spending.
On another note, according to Daniel Kahneman (who shared the Nobel Prize with a team of psychologists), money doesn't bring happiness and actually hampers people to seize the small things.
On a direct quote:
"When someone reflects on how additional income would change [their sense of] well-being, they are probably tempted to think about spending more time in leisurely pursuits such as watching a large-screen plasma TV or playing golf. … By itself, this shift in time is unlikely to lead to much increase in experienced happiness."
A link between both ideologies might be the "Easterlin paradox". Named after economist and professor Richard Easterlin who studied the correlation between income and happiness. In a nutshell, Easterlin outlines that high incomes are linked with happiness, however in the long term, the correlation disappears.
Lets take a look on how Graham Hill, a writer and designer makes his case regarding how less is actually more.
Sources:
Easterlin, Richard A. (1974) "Does Economic Growth Improve the Human Lot?"

Kahneman, D. Science, June 30, 2006; vol 312: pp 1908-1910. News release, Princeton University
Images:
Video: Graham Hill: Less stuff, more happiness